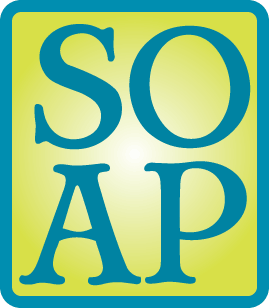 Each new season, one of my favorite soapy suppliers which I've mentioned here on my blog many times,
Bramble Berry
, does extensive testing for new fragrances to add to their already impressive line-up of skin-safe scents. Once they've narrowed it down to their ten favorites, they select a team of eight applicants to test those fragrances in beauty products like soap, lotions, body sprays and even candles. The application process is easy: just share your favorite Bramble Berry product through the social media of your choice, along with why you think you should be chosen, and make sure to link back to them so they'll see it!
I've been soaping for over a year now, first melt and pour and now cold and hot process, and I've always envied those chosen for the S.O.A.P. testing team. It's fun to see their photos and test results posted, and a joy for all Bramble Berry customers to have the fragrance winners available to purchase after it's all over. I finally feel like I am at a place in my experience and availability (I squeeze my full-time job work schedule into just three days a week now, leaving me four whole days every week to soap soap soap away!) to throw my name in the hat and hope that I'm chosen to participate! It's true that soap making is addicting, especially handmade (cold process) soap! I love experimenting with colors, trying new fragrances, working with different molds, oils and swirl techniques, and then sharing my experiences and finished products with fellow soapers, friends and family. I love being a part of a friendly and diverse online soaping community, and learning from other soapers.
It was easy to pick my blog as my means for application, but another thing entirely to pick just
one
favorite product from Bramble Berry. Eek, so many products from BB I love and that make my soaping life easier, how in the world can I choose just one?! I finally decided, since at least a few other soapers would be reading this post as well, that I wanted to share a favorite item that I believe could make a big difference for them in their soap making too! Without question, that would be one of my latest purchases, the
Perfect Pink Stick Blender
, which you might remember me blogging about recently.
Photo from BrambleBerry.com
The pink stick blender has probably made the single biggest noticeable difference in my soaps since I first started CP ten months ago (well, it might be a tie with
sodium lactate
!). It has all but eliminated the presence of those pesky air bubbles that kept showing up before from my old stick blender. After you put so much thought and effort into making a soap, it's totally not cool to see those little buggers mottling your swirls! This stick blender is also super easy to clean and store, and seems to reach a quicker, smoother trace without over blending. And let's not forget the most important feature,
it's pink y'all!!!
Here's an example of some of the soaps I've made, both with my old stick blender and then with the new. It's plain to see the smoother soaps!
Before


After!
That being all said and shown, I have some great ideas for soaps and other goodies to make if I am chosen as a S.O.A.P. team member, lots of new colors, molds and butters to play with! I can't wait to see what all the lucky winners come up with, and what great new BB fragrances will be available, even if I don't make the team. Wish me luck, soapy friends!
As always, thanks so much for reading!